12 Best Free Speedwrite Alternatives 2022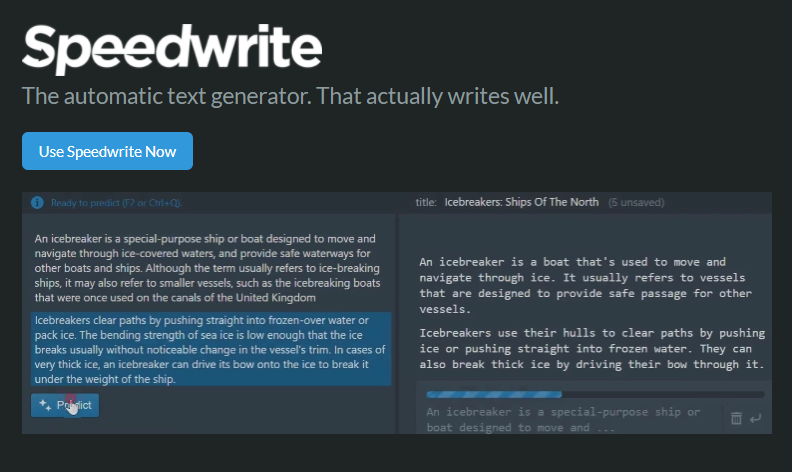 Speedwrite is a new text generation tool invented in 2021, which allows for the creation of new, unique text, using any source. If you haven't tried it yet, give it a spin through this link: speedwrite.com.
There is an important detail here: Speedwrite is not free. You get a few free "predictions", but after that, you need to sign up for a paid subscription. Apparently this is because the site is "expensive to run" -- you can see the FAQ entry here: speedwrite.com/how_it_works.
We spent some time trying some alternatives, and came to this conclusion: As long as the quality of your output is not important, then you can use any one of several free alternatives to Speedwrite, instead of paying for a subscription to the "real thing."
For example, if you're making thousands of web pages, just for machines to read, then you likely do not Speedwrite. Similarly, if you're writing for work or school, and you just need to "fill a page with text", where no human will ever read what you write, then likely you don't need Speedwrite either.
Let's look at the alternatives!
---
We started with this sample text, to test on each website:
Invented by Louis Daguerre and introduced worldwide in 1839, 
the daguerreotype was almost completely superseded by 1860 with new, 
less expensive processes, such as ambrotype, that yield more readily viewable
images. There was a revival of daguerreotype in the late 20th century by a 
small number of photographers interested in making artistic use of 
early photographic processes.
---
1. Paraphraz.it

Paraphraz.it claims to be compatible with a wide range of languages and is completely free to use. Right off the bat, one major downside to this service is that it works really slow. It takes around a minute, if not longer, to rewrite a single paragraph.
After leaving it on for around five minutes in multiple browsers, one of them eventually finished. All the site seems to do is split paragraphs into separate sentences and offer a couple of very slightly rewritten versions.
2. Rewriter Tools
Next is Rewriter Tools. It has a variety of offerings, including a paraphrasing tool and article rewriter, though they all mostly do the exact same thing. In a pinch, this site can be a decent option if you're only trying to change a short sentence or paragraph.

As the site claims, it can quickly generate blocks of text. Unfortunately, its outputs will often sound like gibberish due to how it seems to just be replacing random words with synonyms, regardless of context. This is even more apparent in its Article Spinner tool, which will also add unnecessary phrases throughout your text.
3. Small SEO Tools

This website claims that its automated article rewriter is capable of creating unique content without changing the original text's intended message.
While the content it can create often makes sense and is delivered almost instantly, it almost always changes both proper and common nouns, completely losing the essence of the original text. The site also has a less extensive paraphrasing tool, which merely replaces a handful of words and will most definitely fail any plagiarism checker.
4. PrePost SEO

PrePost SEO's paraphraser features various modes, including an "AI Mode" that they claim can break down complex sentences and make them easier to read.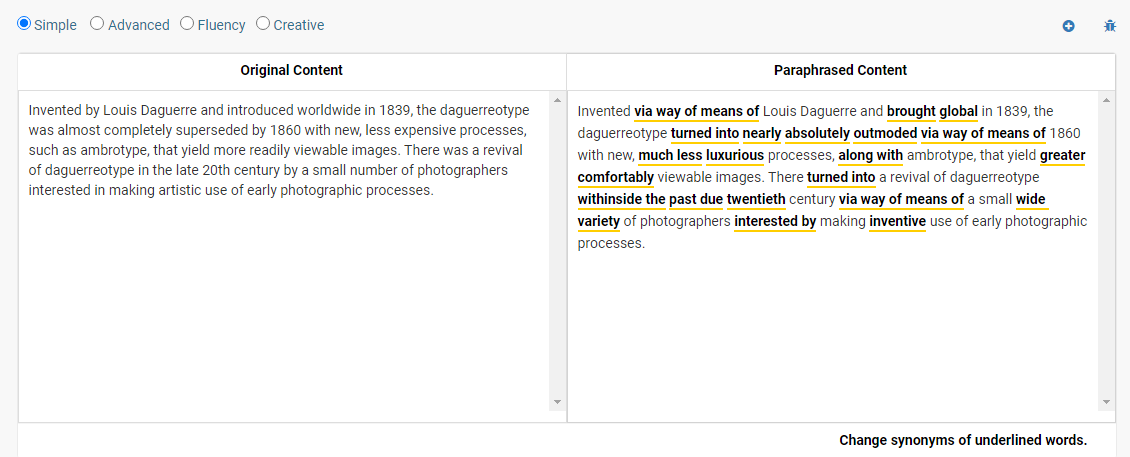 Its "Simple" and "Advanced" modes work incredibly fast but tend to turn even the simplest words into nonsensical or needlessly complex phrases. For example, it changes the phrase "Invented by" into "Invented via way of means of." Its "AI Mode," on the other hand, produces grammatically correct statements, but it also keeps almost all of the original text untouched.
5. Paraphraser.io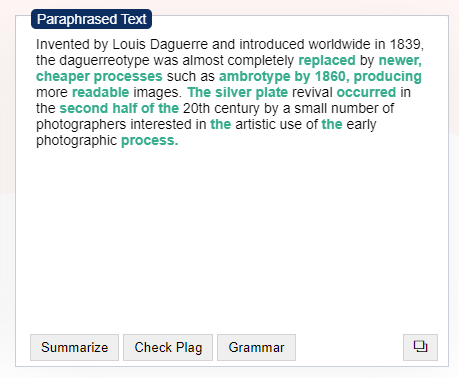 One of the more popular free alternatives is Paraphraser.io, which does exactly what its name suggests. It offers three different modes, with each slightly changing how the output is written.
While the results are sometimes grammatically correct, the tool isn't fully capable of writing original text as it merely switches around certain words and phrases. Ironically, the website's own Plagiarism Checker will sometimes detect a large amount of plagiarized content in the paragraphs that it creates.
The site itself is also littered with ads, and the tool will refuse to generate anything if you have an ad blocker installed on your browser.
6. StandoutEssay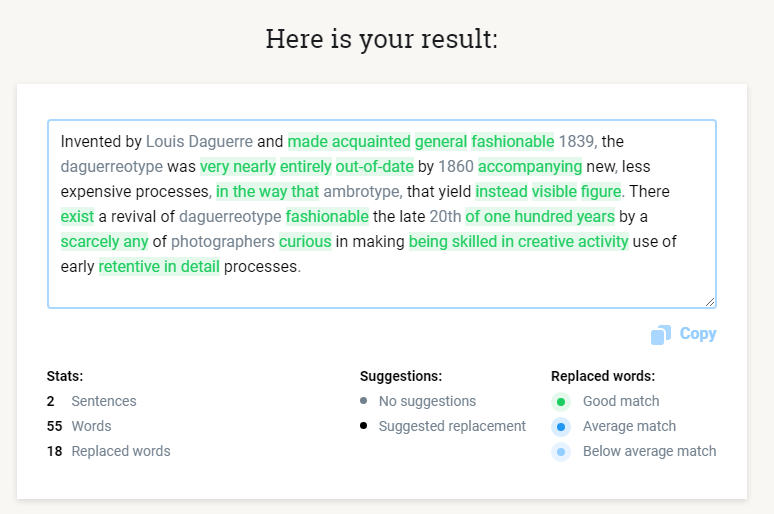 StandoutEssay offers a free paraphrasing tool that allows users to rewrite up to 13,000 characters worth of text, and it guarantees that the output will be plagiarism-free.
It generates new content almost instantly, but unfortunately, the majority of the sentences it creates are almost always riddled with grammatical errors.
It does let users manually replace individual words with the help of a droplist of synonyms, though this won't fix problems such as poor sentence construction.
7. AI Article Spinner

AI Article Spinner features two different modes that each has its own distinct writing style. While it outputs text that sounds natural, it still has several flaws.

It can pass a plagiarism test due to how it shuffles phrases around and replaces a few words, but the result will still very closely resemble the original text. Its outputs also often have a few grammatical errors that users may not notice immediately.
The site also has a very aggressive anti-ad blocker that will prevent you from even accessing the page if you have one installed.
8. Spinbot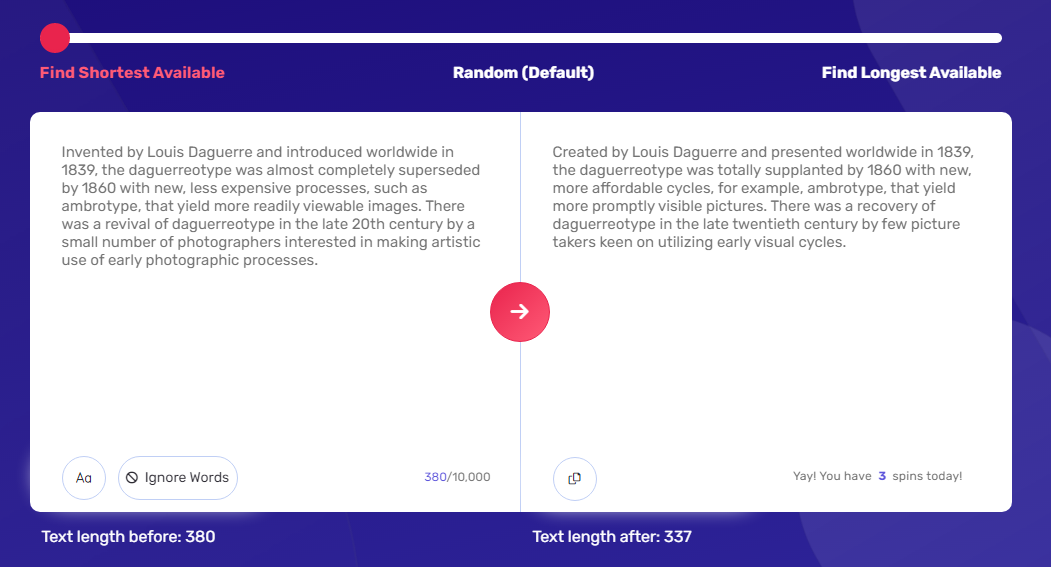 Spinbot is a free paraphrasing tool that allows users to vaguely choose the length of their rewritten text. The sentences it creates are readable and sometimes grammatically sound.
While there's nothing inherently wrong with how it structures its sentences, the way this tool rewrites text makes it seem like more of an automated thesaurus. It drastically changes many words to the point where it will sometimes completely fail to capture the essence of the original content.
9. Smodin.io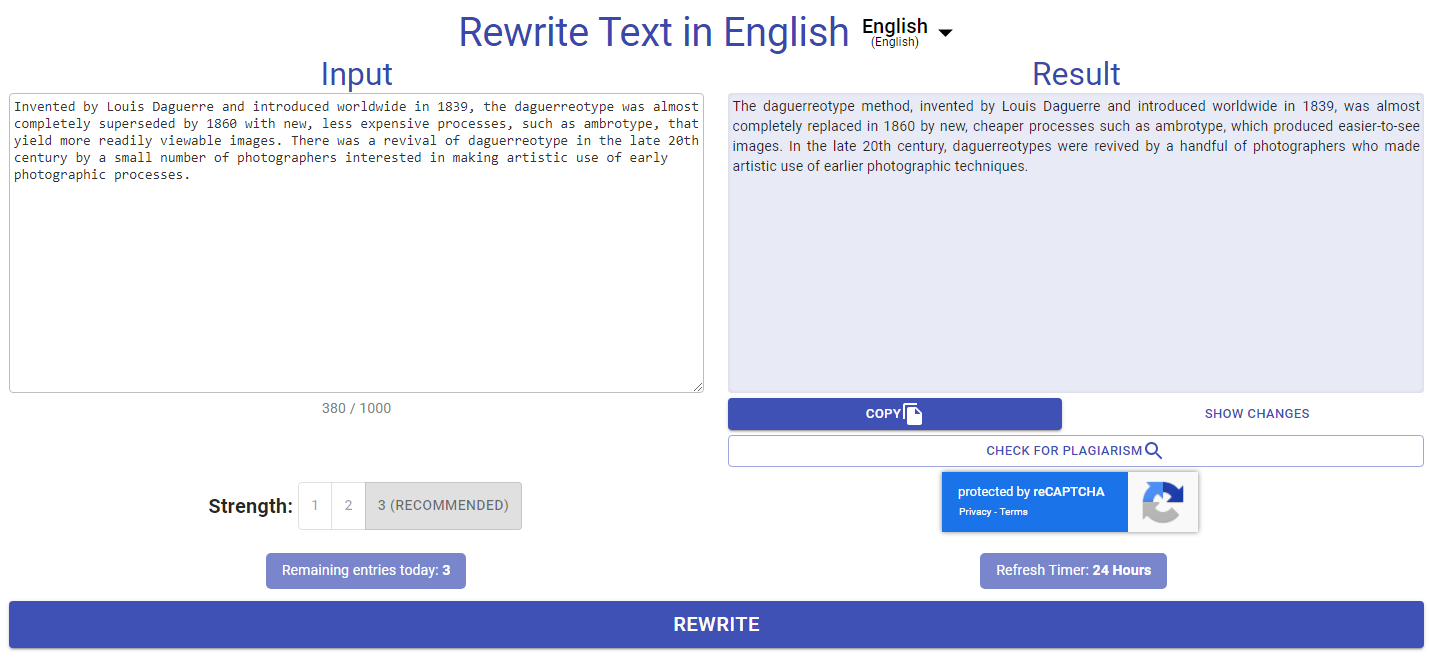 Smodin.io's free text spinner offers varying "strength" options, which determine how much of the input will be changed.
As one would expect, any option other than the highest would result in text that's almost entirely the same as the original, which will humorously get horrible scores on their own plagiarism checking tool.

It can, however, create passable text at the highest setting, though it mostly achieves this by flipping sentences around and replacing a few words with suitable synonyms. The website also has a limit of only five entries per day.
10. Rewrite Guru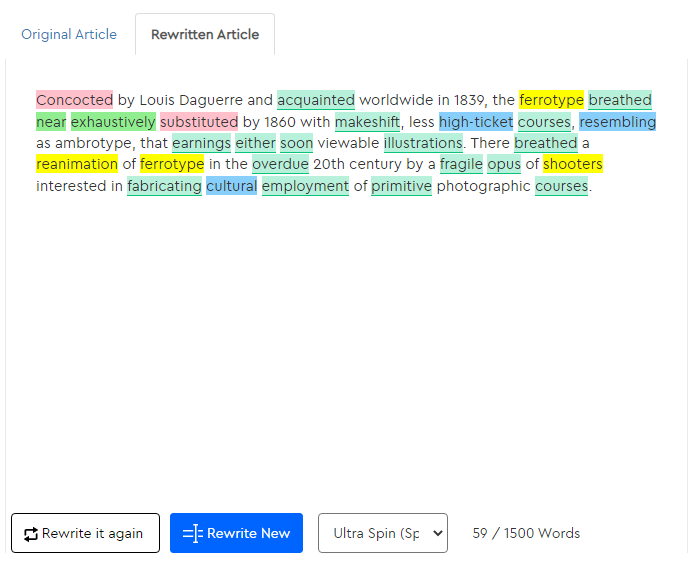 Rewrite Guru is capable of rewriting text in multiple languages, and it comes with an "Ultra Spin" mode that will replace almost every word of the original. It also lets users manually replace or revert any of the changes made, which are conveniently highlighted.
The problem with its process is that it feels way too forced because it frequently replaces words with synonyms that ruin the original message. For example, it will turn words such as "new" into "makeshift" and "photographers" into "shooters."
11. Rewrite Tool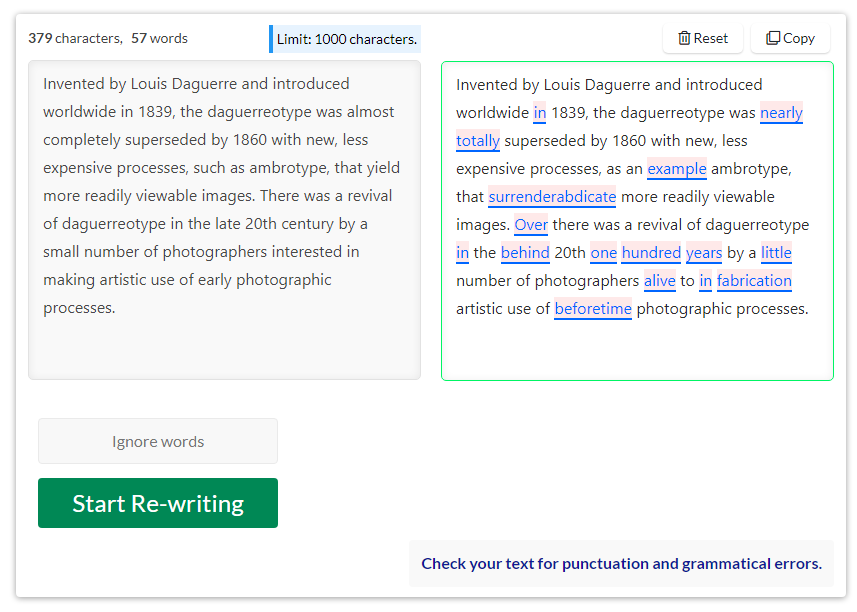 Rewrite Tool, as the name suggests, aims to rephrase any text and turn it into unique content for free. It lets users exclude certain words from being reworded, and the results are generated relatively quickly.
Unfortunately, it barely changes anything from the original text. All of the changes it makes are highlighted, and in some cases, it doesn't actually even change anything. It also often delivers complete gibberish, as it would replace phrases such as "20th century" with "20th one hundred years."
12. Best Rewriter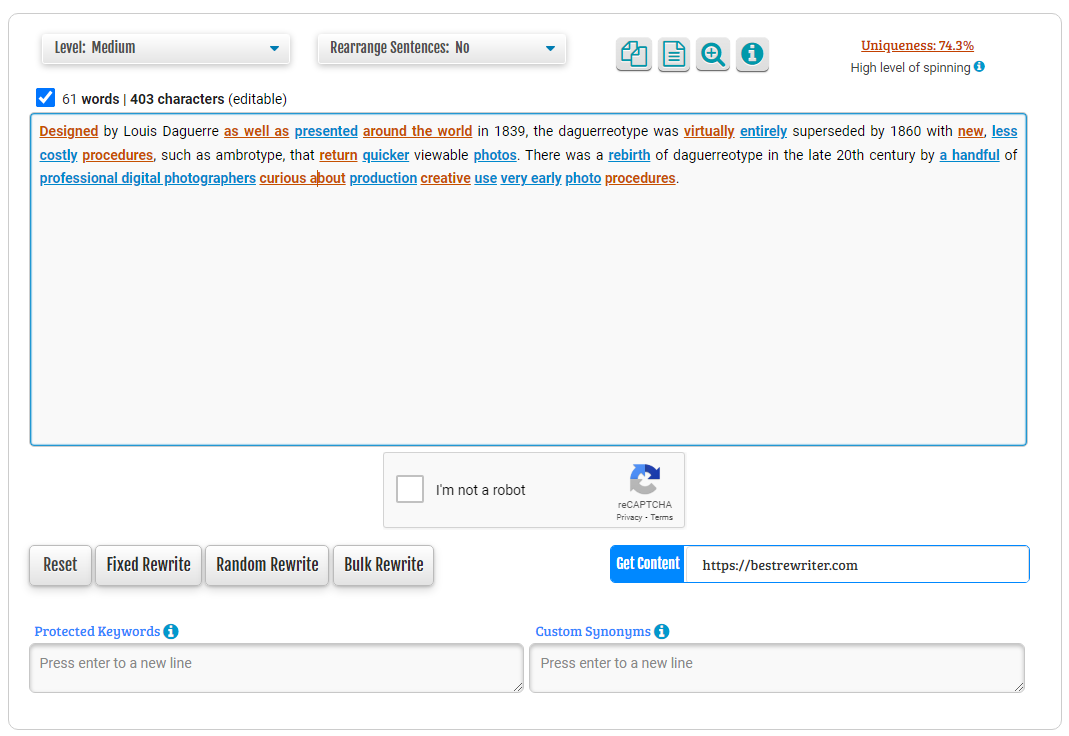 Best Rewriter features a comprehensive UI that gives users the option to rearrange sentences, exclude certain keywords, and determine how much of the original text will get reworded.
While it offers a lot of customization, some of these features don't actually change the end result too much, if at all. It also generates a lot of sentences that are either factually incorrect or don't make any sense, especially in higher settings.
Conclusion: Which Is Really Best?
After trying all of these, our conclusion is that, as long as the quality of output is not important, any of these tools will work fine, and will generate "unique" text, as long as you choose the right settings. But, be warned: The text you generate might not make any sense to a human reader.
If there is a chance that a human will read the text you are generating, you might want to consider a Speedwrite subscription, instead.